Welcome to GC Removals
Your Go-To Removalists from the Gold Coast to Brisbane
GC Removals is a family owned and operated Gold Coast based removalist business, specialising in making your moving process seamless, stress-free and affordable. Operating for over 12 years, we have the accumulated experience safely buckled under our belts, our helpful team of movers will make you feel at ease while transporting your precious valuables. When you think of removals in the Gold Coast, we are the removals service provider to call for.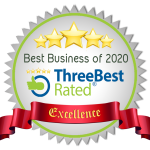 GC Removals sits proudly in the top three rated removal companies in the Gold Coast! Our customers love our commitment, hard work and our honesty, and showed it by voting us as part of the best the Gold Coast has to offer!
After reviewing our history of reviews, complaints, ratings, cost, attitude and reputation- Three Best Rated listed GC Removals as one of The Gold Coast's most trusted and respected removal companies. It has been our pleasure servicing the Gold Coast community, and we continue to do so on a daily basis.
Our Services
Our Gold Coast Removers Make Your Move Easy
Moving things from one place to another is one of those things that often sounds much easier than it is. You think it's going to be as simple as packing up a few boxes and putting them on the back of a truck, but for some reason, this doesn't always turn out to be the case. It's not uncommon to hear about people spending more time (and money) than they originally anticipated, due to little more than a lack of careful planning. This shouldn't frighten you away from moving, though—the fact is, moving doesn't have to be difficult at all. When you prepare well in advance, you can have a smooth move that takes you and all your possessions to your new location without stress or mess.
What does it mean to prepare for a move? Well, there are a couple of things you can do to make sure that you're ready for the big day. One of the most important, though, is choosing your moving company ahead of time. You want to make sure that you've lined up Gold Coast movers that you can trust long before the day when you have to put your things on the truck. How can you find movers in Gold Coast with whom you'll feel comfortable working? You'll want to do some research.
What You Want in a Removalist
A fair price
Customisation options
A company with a strong history
Plenty of experience
Flexibility
That might seem like a tall order at first, but it's not much to ask from a reputable moving company. If you're wondering where to start, check out GC Removals, a family owned and operated company serving the Gold Coast area for over 11 years.
GC Removals offers a high-quality service that can be tailored to fit the needs of each client. Using competent and professional movers, we can pre-pack your things with care, put them on the truck efficiently, move them to your destination as quickly as possible, unload them and put them in your new home without damaging the objects you love or wasting time. Our uniformed staff and carefully maintained vehicles help to ensure that you're always dealing with a conscientious and detail-oriented service that you can feel good about using.
Gold Coast Removers Who Offer Budget Friendly Choices
Flexibility is important when looking for movers since no two moves are the same and different clients will require different services. For instance, are you trying to rent two men and a small truck for a single hour, or three movers with a large truck for an entire day? In either case, we'll be able to offer you a reasonable rate and the resources you need. The next time you're in the market for removers, check out GC Removals and make the process simple. We're looking forward to helping you with your move.
Hire a Removalist and a Quality Removal Truck in Gold Coast
Moving your things from one place to another can be an intimidating task. Most furniture, after all, isn't designed with moving in mind; it's made to stand in your house and look good. That means you'll have to keep everything protected when you take it from your old location to the new one, to avoid damage. There are plenty of other considerations, too—you've got to handle loading, unloading, and any dismantling or reassembly that needs to happen. If this is starting to sound like a big job to you, don't panic! It's true that moving can be a lot of work, but nobody said it had to be hard on you.
You might want to hire a removalist in Gold Coast to help you with your move. Hiring a removalist means that you get to work with people who do this kind of thing for a living. They know exactly what kind of procedures and materials need to be used to keep your belongings in excellent condition, and they'll have the experience to complete everything quickly, without mistakes. This makes it easy for you to move your belongings, whether you're moving from house to house or office to office.
In Gold Coast, you can hire a removalist quickly by looking out for companies who approach their work carefully and conscientiously. This means choosing a removalist who employs experienced and uniformed personnel, and who keeps every removal truck in excellent condition. Hire a well-kept removal truck in Gold Coast with skilled people to load it, and you'll be well on your way to a successful move.
That's why GC Removals is such an excellent option. For six to eight years, we've done our very best to provide residents of Gold Coast with high quality moving solutions that take every relevant detail into account. We work with you to cover pre-packing, loading, unloading and unpacking, with each removal truck shipshape so that you'll be able to count on them whenever they're needed.
A Budget Friendly Way to Hire a Removalist in Gold Coast
We offer a high-quality service, but we still commit to offering competitive prices so that you won't have to break your piggy bank (or your real bank) to pay for it. Moving can be challenging enough without having to worry about things like payment. We're quite confident that when you hire GC Removals, you'll be pleasantly surprised by how affordable our rates are.
In Gold Coast, Hire a Removal Truck with Flexible Workers
You get more than just the removal truck when you come to us. We offer packages for vehicles of various sizes, along with as many men as you need to load them. It all comes down to what you want, so don't delay—call GC Removals today and find the perfect options to make your next move easier than you could have possibly imagined. Contact us today!